Sale price
$23.00
Regular price
Unit price
per
Sale
Coming soon
Black
Silver
White
Teal
Green
Purple
Red
Gunmetal
Blue
Gold
Orange
Rose Gold
No items to add.
ADD TO CART
View full details
About Yocan Uni Pro 2.0 Box Mod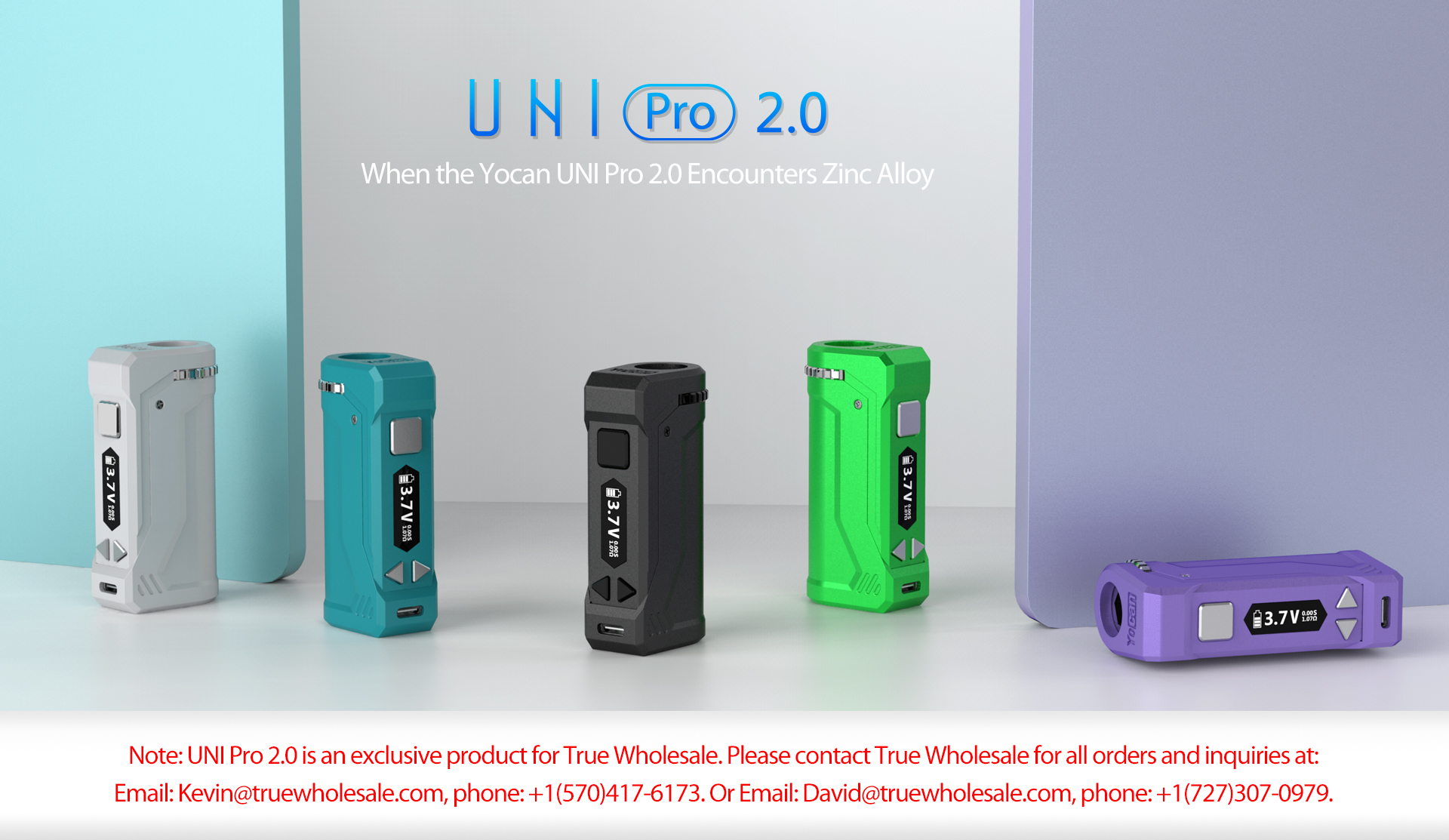 SOLID QUALITY – METALLIC TEXTURE
The Yocan UNI Pro 2.0 makes use of solid quality Zinc Alloy housing. Exquisite metallic texture provides a scratch-free experience, enabling it more durable and reliable.
ONE BOX MOD FITS ALL
The Yocan UNI Pro 2.0, having a universal structure, fits all kinds of oil atomizers, which refrains from concerning the distinctions of your oil atomizers. All you need to do is put them into the UNI Pro 2.0 box mod simply!
THE INTERNAL HEIGHT SLIDER PATENTED DESIGN
The Yocan UNI Pro 2.0 is built with a height slider. This left patented design enables you to adjust the height to fit your oil atomizers easily. The concerns that your atomizer is too tall or short will be completely disappeared.
THE ADJUSTABLE DIAMETER DIAL PATENTED DESIGN
Owning the adjustable diameter dial patented design and the maximized diameter of the dial is 14mm, which fits all kinds of oil atomizers with different diameters. The unique and convenient design shapes the Yocan UNI Pro 2.0 as another ultra contender in the market.
10SEC PREHEAT FUNCTION AT 1.8V
The Yocan UNI Pro 2.0 is equipped with a 10S preheat function, which can warm up your oils before vaping. It will help deliver the materials' original flavour to you. Just pressing the power button 2 times, you can activate or de-activate the preheat function. The device will last for 10S at 1.8V to preheat.
MORE WIDER RANGE OF VOLTAGE: 1.8V-4.2V
The voltage range of Yocan UNI Pro 2.0 is 1.8V to 4.2V. Just press the left or the right button to adjust the voltage with an accuracy of 0.1V until you are satisfied with the voltage selection.
  EMBRACED WITH TYPE-C CHARGING PORT NOW
The battery capacity of Yocan UNI Pro 2.0 is 650mAh, but the current Type-C charging port definitely speeds up charging time. This mechanism imperceptibly leaves more vaping time for you.